Ninety-seven delegates from 10 countries recently attended the International Cotton Advisory Committee's (ICAC) meeting of the Inter-Regional Cooperative Research Network on Cotton for the Mediterranean and Middle East Regions in Sharm El Sheikh, Egypt.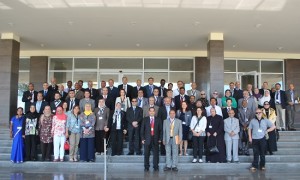 Dr. Mohamed A. M. El-Sayed Negm of the Cotton Research Institute, Egypt – who is general coordinator of the Network – served as the primary host of the meeting. Dr. Rafiq Chaudhary, head of the technical department of ICAC, was the chairperson of the meeting.
Participants were also welcomed by Dr. Ahmed Mustafa, chairman, Cotton and Textile Holding Company, Egypt;  Mrs. Eman Zaki, general manager, CATGO, Egypt (on behalf of Dr. Mahmoud El Bagoury, CATGO Chairman and the Government Commissioner at ACOTEXA).
Delegates from different countries introduced their research studies on how to enhance cotton production; cotton yield through breeding and biotechnology; agronomy; fiber and yarn technology; and economics.
The presentations included a presentation by Dr. Negm regarding the discovery of the genomic fingerprint of the Egyptian cotton, with his colleague, Dr. Suzan Sanad.
Eng. Khaled Schuman, executive director of the Cotton Egypt Association, emphasized the great impact of the cotton DNA analysis discovery in achieving the Association's objectives, declaring a new era for the protection of the Egyptian Heritage, the White Gold and the Egyptian Cotton logo, and globally conserving the consumer rights in using genuine Egyptian Cotton Products.
Following the meeting sessions, the organizing committee organized a Safari Tour in the desert of Sharm El Sheikh for participants, including a gala moonlight dinner with Egyptian folk music, dance and acrobatic show.