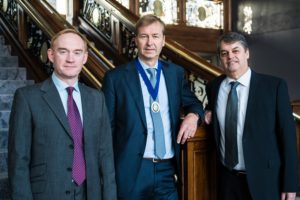 The new ICA leadership team (from left): Bill Ballenden, Jürg Reinhart and Salman Ispahani.
New leadership for the International Cotton Association (ICA) was named during the organization's annual general meeting in Liverpool.
Jürg Reinhart, chairman of Paul Reinhart AG, Switzerland, is the new ICA president for 2016-17. Salman Ispahani, managing director of Pahartali Textiles, will serve as First Vice President, and Bill Ballenden, general manager of Louis Dreyfus Company Suisse, is Second Vice President.
New board members are Manish Chawla, H&M; Minghong Chen, Chinatex Cotton Import and Export Corporation; Jerry Marshall, Yiyang Company; Alan McClay, Better Cotton Initiative; Tim North, ECOM USA; Leon Picon, Orta Anadolu; and Mohit Shah, Gill & Co.
On accepting the role of President, Reinhart noted the ICA's history and sent a message of engagement and collaboration to strengthen contract sanctity and to support sustainable and safe trading practices.
"I never imagined in my remotest thoughts that I would stand here one night to address you as your President," he said. "I am delighted and deeply honored, even more so as we are celebrating the 175th anniversary of our Association.
"The increasing complexity of globalized trade and the ongoing increase of worldwide regulations and laws have left their mark in our rules and bylaws, which have been constantly amended and reformed over the years," he stated. "Our top target has always been, and remains, to have a rule book which is clear, precise, consistent in itself, but also fair and impartial.
"But, we must also recognize that there is a need for stability," added Reinhart. "Rules cannot be changed constantly. Overly detailed regulation can easily become counterproductive. Our way forward needs to be one of consolidation and digestion. Let us shift a gear lower and try to reach out to our members and users in a concentrated and collaborative effort. Even the best set of rules needs to be understood and internalized in order to be effective.
"While the long-term common interests of all members is best served when everybody adheres to the rules, occasionally the short-term interests of a single member make it seemingly attractive to cut some corners. I would like to state very strongly that it is imperative for the entire industry to prevent such corner-cutting," he warned. "Without sanctity of contracts, our business is dead. We have to be strict against violators in the common interest of us all."
Established in 1841, the ICA is the world's leading international cotton trade association and arbitral body, with more than 540 members – including the world's major cotton companies – representing all sectors of the cotton industry. The organization strives to ensure contract sanctity in the global trade of cotton through the ICA Bylaws & Rules, which govern the majority of the world's raw cotton trade.
Source – International Cotton Association