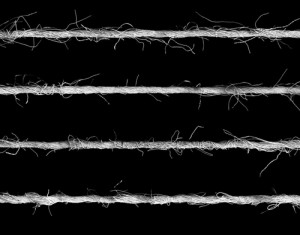 A new Rieter seminar conveys up-to-date knowledge on different spinning technologies.
Rieter is approaching yarn buyers, sellers and dealers with a completely new offer. During a 2-day seminar participants will receive comprehensive information and documentation on how to differentiate between and assess yarn characteristics, and how these characteristics effect further processing.
This new competence will ease talks between contract partners in the yarn trade and open up new opportunities.
A survey of the branch revealed that there is a great deal of interest in training that explains the differences in the four spinning technologies, with a focus on actual practice:
technological knowledge about the four spinning systems: ring spinning, compact spinning, rotor spinning and air-jet spinning
information on typical characteristics, taking Com4® yarns as example, their behavior during further processing, advantages for use of fabrics made of these yarns, and typical end products
This seminar offers participants a unique opportunity to learn about and understand the differences in the four spinning technologies. This will be supported by a comprehensive documentation of samples which the participants can use in future activities.
The first seminar will take place from November 27 – 28 in Winterthur, Switzerland. Registration is possible until October 1, 2012, at ursula.broich@rieter.com. Additional seminars are planned for 2013 in Switzerland, India and China.
Source: Rieter India Private Limited