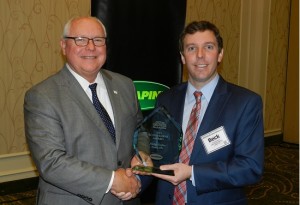 Sledge Taylor – a cotton grower, ginner and industry leader from Como, MS – has been named recipient of the 2015 Cotton Grower Achievement Award.
Taylor was honored January 6 during the Cotton Achievement Award luncheon, sponsored by Deltapine and held in conjunction with the Beltwide Cotton Conferences in New Orleans.
"Each year, Cotton Grower magazine honors one cotton leader for excellence, innovation and leadership in our industry," said Beck Barnes, editor/publisher of Cotton Grower. "This special person embodies a willingness to innovate, inspire, and educate. They set an example for other growers and industry leaders on how they can become more successful at their life's work. And, they display an unequaled commitment to the land, people, time, and talent placed in their care.
Taylor becomes the 46th recipient of the award.
"The previous recipients of this award have petitioned for change and for what's best for this industry," said Taylor in accepting the award. "Each year, the cotton industry builds on what our previous leaders have done.
"It's truly an honor to be included among these recipients," he added. "No one sets out to receive an award. We do what we think is best to serve our family, our country and our industry."
A long-time grower and innovator in cotton production, Taylor has made a distinctive mark in his service to the cotton industry. He is the current chairman of the National Cotton Council, following service as the organization's vice chairman, secretary/treasurer and as a director. He is also a member of USDA's Agricultural Technical Advisory Committee for Trade.
Taylor has also served in leadership roles with the Cotton Foundation, National Cotton Ginners Association, Southern Cotton Ginners Association and the Delta Council. On a state level, he has served as president of the Mississippi Cattle Industry Board and Mississippi Cattlemen's Association and remains active with the Panola County Soil and Water Conservation District, Panola-Tate Drainage District and Panola County Land Planning Commission.