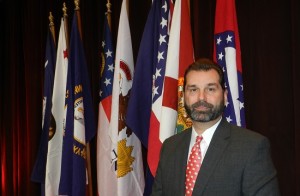 From Cotton Grower Magazine – March 2016
Shane Stephens of Greenwood, MS, was elected Chairman of the National Cotton Council (NCC) during the Council's Annual Meeting in Dallas in February. Since then, he's hit the ground running.
A warehouseman by trade, Stephens works as the vice president of Staplcotn's cotton services and warehouse division. He has been with Staplcotn since graduating from the University of Tennessee at Martin in 1985 – making him quite unique among recent NCC chairpersons, who have almost all been farmers by trade. But that is not to say that Stephens doesn't have on-farm roots.
"My father grew up on a cotton farm in West Texas. I grew up spending Christmas and vacations in West Texas," said Stephens. "My dad was from cotton country, and my parents' next door neighbors got me into agriculture early on. And my in-laws have a cotton gin, warehousing, and cotton farming operation based out of Marston, MO."
What's more, he says, his position at Staplcotn allowed him to learn all about the challenges faced by American cotton producers.
"My job is dealing with cotton farmers," Stephens says. "I've worked with cotton farmers since the day I went to work with Staplcotn. We're a farmer-owned cooperative, so the growers who warehouse with us own Staplcotn and I deal with them on a daily basis. Same with the growers who market with us. Their challenges become my challenges."
Of course the NCC chairman must, by design, represent each of the cotton industry's seven segments. Stephens cites all of them when discussing what he sees as the cotton industry's greatest challenge over the course of the next year – maintaining financial viability.
"The biggest challenge to our industry right now is the price versus the cost of growing cotton," Stephens says. "We've seen price go down, while we haven't seen the input costs go down as much as the price of cotton. So the margins at the grower level are very low, and it's not just the grower. There are seven segments, and the margins throughout the industry are very tight.
"So our challenge is, 'How do you maintain viability in an industry with very low margins with a safety net that simply is not adequate?' That's what we're working on at the National Cotton Council. Improving the safety net, improving efficiency that all of our members and all the cotton industry can benefit from."
One pathway to improving financial viability in the cotton industry that Stephens is keenly aware of is in building demand for cotton around the world.
"For various reasons, the demand for cotton has not gone up on the trend line over the last 10 years at the same rate it was going up in the previous 10 years," Stephens says. "That's what our real challenge is, is to get cotton's blend back – to get cotton's preference at the retail counter back. The product performance is there, so that's our challenge."
Industry Service
Stephens first got involved with the NCC in 1994-95 as part of the Cotton Leadership Program. He says his motivation to become active in the association in those early years was because he considered it part of his job with Staplcotn. He soon found that he truly enjoyed the association work.
He stayed involved with the Council through the years, eventually rising to become vice president representing the warehouse segment from 2007-2012. He served on the NCC Board of Directors from 2001 to 2005, and then again in 2013-14. He also served on numerous NCC committees over that span, having chaired the Packaging and Distribution and Membership and Credentials committees.
"We've created efficiencies in the industry," Stephens says. "The Cotton Council has been the driver, but Staplcotn has been a part of that and I got to be a part of that through working with Staplcotn and the National Cotton Council. So it's been an exciting time. There have been lots of changes since I first got involved."
Stephens is also currently active in the Cotton Growers Warehouse Association, having previously served as that organization's chairman. At the NCC, Stephens replaces outgoing chairman Sledge Taylor.
Having graduated with a B.S. degree in agricultural economics from the University of Tennessee at Martin in 1985, Stephens immediately went to work at Staplcotn in West Memphis, AR. After three years there, he moved his office briefly to Blytheville, AR, before eventually settling in at the company's headquarters in Greenwood. He's been there ever since.
At Staplcotn, Stephens heads the cotton services division, which features 11 offices throughout the Mid-South and Southeast, and is responsible for recruiting and servicing the cooperative's grower/members. The warehouse division is responsible for 14 warehouse locations in Mississippi, Arkansas, Louisiana, North Carolina, South Carolina and Georgia, according to a release from the National Cotton Council.
Stephens and his wife Janet have two daughters and a son – Kelsey, Kristen and Shane Houston. He and Janet are active members of the First Baptist Church in Greenwood.