By Adam Russell, Texas A&M AgriLife Extension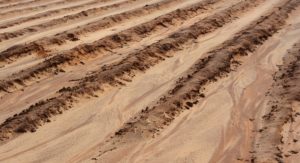 Cotton fields awaiting planting after rain. (Texas A&M AgriLife Extension Service photo by Kay Ledbetter)
Dr. Carlos Fernandez, Texas A&M AgriLife Research agronomist, Corpus Christi, said cropland preparations in the area are on target and fields look good amid favorable conditions.
"Fields are clear and farmers are preparing soil beds for planting," he said. "Everything looks to be on or ahead of schedule."
Herbicides and tillage have been applied to area fields, he said.
Fernandez said soil moisture levels are good following recent rains. There have been several dry, windy days that have depleted topsoil moisture levels, but forecasted rains will further improve conditions before planting begins in the next few weeks.
"There was a good recharging of the soil with moisture and the post-harvest preparations made by farmers," he said. "We expect very good conditions for germination."
Grain sorghum is expected to be planted within the next two weeks, with cotton to follow, he said.
Fernandez said the vast majority of croplands in his area will be planted with sorghum and cotton, though some producers may plant corn because soil moisture recharge was favorable.
Milder-than-normal winter weather won't likely change when or how producers scout for pests, said Dr. Robert Bowling, Texas A&M AgriLife Extension Service entomologist, Corpus Christi.
Bowling said the area experienced a hard freeze recently, but that overwintering insects are good at insulating themselves. Aside from higher-than-normal temperatures, the last few months have been very dry, which is advantageous for some pests.
"Sugarcane aphids like dry conditions and have shown an ability to overwinter in South Texas," he said. "That's one that producers around Corpus Christi, the Upper Gulf Coast and the Rio Grande Valley will be watching for because they have a remarkable ability to expand populations in such a short period of time."
Bowling said it could be a bumper year for grasshoppers, especially in the Rio Grande Valley, but predicting which pests will emerge as a problem going into any season is difficult.
"There is always something that pops up," he said. "It's usually the one you miss even thinking about."