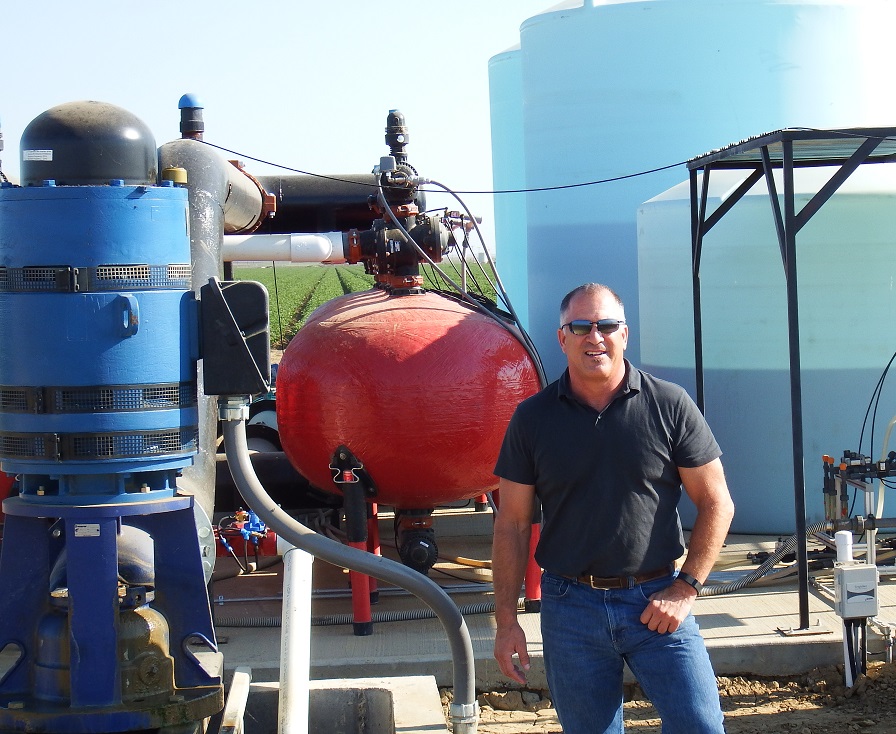 Aaron Barcellos
BY BRAD ROBB, Contributing Writer
From Cotton Grower Magazine – August/September 2017
Nestled in the northern central San Joaquin Valley between the Sierra Nevada Mountains to the east and the California foothills to the west, Los Banos is home to Aaron Barcellos and A-Bar Ag Enterprises. The Barcellos name is recognized across the Cotton Belt thanks in no small part to Aaron, who – along with his father Arnold, brother Aric, and nephew Jake – continues to operate the family farm with a history of innovation and stewardship as rich as the clay loam soils that cover the local landscape.
Since the beginning of the 20th century, Los Banos was dairy country. But today, row crops and a broad range of tree orchards yielding pistachios, almonds and pomegranates dot the countryside. After a year of record rainfall, coupled with an enormous winter snowpack, reservoirs filled to capacity sent California cotton growers scrambling to add 60,000 more acres to take advantage of the water that shattered a five-year drought.
Many of those acres were planted to cotton, especially when the Pima market saw a nice price jump after legal action against textile company Welspun India following the company's use of inferior fibers to manufacture sheets and pillowcases labeled as 100% Egyptian cotton.
Water, Water Everywhere – Finally
"It's been a real challenge to make any long-range planting intentions when you don't know if you'll have water," states Barcellos, who, unfortunately, had to fallow some acres this year due to late-arriving water allocation announcements.
Water distribution to the west side of central San Joaquin Valley is controlled primarily by two state projects. The Delta Mendota Canal brings water to the Mendota Pool from pumps north of Los Banos, in Tracy, CA. A second system, the California Aqueduct, transfers water over 400 miles from the California Delta to Southern California.
Despite all reservoirs being filled to or above capacity, water allocations still come with exorbitant delivery costs to California growers. Producing some commodities often does not pencil out when considering the water the crops require, where they are in the operational profit scheme, and the region's high cost of crop production in general.
"California is known for its notoriously strict regulatory controls, so I not only have to consider how those regulations impact water availability, but also how our state and environmental regulations will impact our labor pool and all of our other costs of doing business when determining what crops to plant," says Barcellos.
"We have a Groundwater Sustainability Management Act which will limit our well water pumping capacity by 2020," he explains. "Many growers in our state only survived the drought because they were able to make up for some of their lost surface supplies by drawing from underground aquifers. Groundwater pumping was one of the last variables still under a grower's control when it came to water supply. Now we are faced with so many looming unknowns about how this Act will impact us moving forward."
Barcellos chairs a regionally-based committee providing input into the development of the Act.
From service water and well water, to purchasing water from the outside market, or even leasing properties and then moving water from one property to another, Barcellos farms in two counties incorporating five different water districts and will source water for crops that need it the most or hold the most potential for the best ROI.
"Our water supply has become one very large and complex puzzle we keep trying to piece together – with the challenge being, the pieces keep changing," adds Barcellos.
Protecting the Pima Brand
Barcellos precision planted over 2,500 acres of Pima (PhytoGen 881, PhytoGen 811 RF and Hazera 1432) between the last week in March and the last day of April. His PhytoGen cotton seed comes with a seed treatment for root rot and wireworms. The growing season for Pima is about two to three weeks longer than upland's, but after bolls crack open, growers are thankful at that point for California's arid, dry climate.
Barcellos moved to a two-year rotation of tomatoes followed by 1-2 years of Pima cotton, melons, onions or wheat to help rebuild the soil profile and assist with both compaction and weed control. He is starting to see some resistance to marestail, but the toughest weed on his farm right now is annual morningglory.
"We have some ground where we bury disposable irrigation tape about an inch under the soil surface, but 80% of my cotton is irrigated via a sub-surface drip system," explains Barcellos, who spoon feeds N, P and K via the sub-surface system as well.
His Pima yields through the years have averaged in the neighborhood of 1,600 pounds, but he admits 1,500 pounds this year would easily put a smile on his face.
A-Bar Ag Enterprises has an ownership interest in Pacific Ginning, LLC, and all of their Pima will be roller ginned to preserve every length of those ELS fibers.
Pima cotton has a longstanding and global reputation for the inherent quality of its fiber and the subsequent products from which it is made. Barcellos and a group of other San Joaquin Valley Pima growers have taken a significant step to protect that international reputation by adopting a technology called SigNature T from Applied DNA Sciences, Inc., that places a permanent "fiber identifier" on their cotton.
"The technology is actually a botanical-based molecular tag which is applied via a fine mist spray nozzle during the ginning process," explains David Greenstein, CEO, Himatsingka America. "From that point forward, it can be identified and authenticated as 100% American Pima, even after it has been manufactured into a textile product."
Approximately 90% of the world's Pima cotton is produced in the San Joaquin Valley. That proximity of collective cotton production is yet another reason Barcellos and the other growers decided to adopt this technology, which is being marketed nationally under the brand name Wamsutta, made with PimaCott.
Leadership and Sustainability
Active in community and civic association leadership roles, Barcellos is the current president of the Pacheco Water District and is past chairman of the Los Banos School District Board. Backed by strong on-farm family support from his father, brother and nephew (who recently became a partner in the operation), Barcellos continues to dedicate a great deal of time to ag industry groups.
He is currently first vice chairman of the California Tomato Growers Association and currently serves on the National Cotton Council (NCC) Sustainability Task Force, a group of representatives from across the cotton supply chain charged with identifying additional areas where long-term U.S. cotton sustainability improvements can be made.
"Our industry associations have done an excellent job compiling metrics that clearly document and confirm the sustainability efforts U.S. cotton growers have made and continue to make," states Barcellos. "We just have to be more deliberate communicating those metrics and our commitment to continuous improvement in a formal program that brands and retailers need and want.
"We will deliver our recommendations to the NCC's Board of Directors later this year."