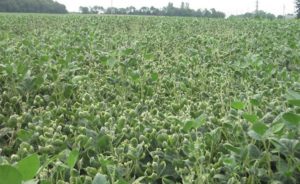 Photo: University of Arkansas
Tom Barber, University of Arkansas Extension weed specialist, reports that 40 complaints from off-target movement of dicamba have already been submitted to the Arkansas State Plant Board, as of June 12.
"This year, the release and approval of Engenia herbicide (an improved formulation with reduced volatility) was registered in Arkansas and coupled with more strict application guidelines which included mandatory applicator training, extending 100 foot buffer zones around the entire field at application as well as a 0.25 mile downwind buffer to sensitive crops," says Barber in a newly-posted blog. "The thought during the development of these restrictions was an attempt to minimize the amount of injury from off target movement this season. Unfortunately, that has not been the case."
Barber notes that numerous other drift complaints for other products have also been filed this year, but these drift events have been much more localized. The dicamba complaints have been much more widespread, often covering 1000 acres or more each time.
The biggest problem, says Barber, is the sensitivity of non-Xtend soybean to dicamba. Although more than 1000 growers and applicators completed the required training, most of the reported damage has come from use of the wrong nozzles, high winds, disregarding the buffer zones, or night applications during a temperature inversion.
"This physical drift accounts for at least 80-90% of all the dicamba injured fields that I have personally walked," states Barber. "The other 10-20% is not that easy to figure out."
Growers who suspect dicamba injury from off-target movement should call the Arkansas State Plant Board. This will provide an official record of the complaint.
Barber's entire blog, with additional details and information, can be read here.