Consistency in quality and contamination-free cotton are what global cotton mills want. And they're paying closer attention to both.
Free of plastic contamination, objective quality evaluation and consistency are the characteristics which provide a premium for cotton, according to global experts who are touring the United States as part of Cotton Council International's COTTON USA Orientation Tour.
About 40 people representing 16 countries such as Turkey, Bangladesh, Thailand, Indonesia, India, Japan, Guatemala and Peru recently visited Lubbock and met with cotton industry representatives from the High Plains. Discussions focused on the efforts undertaken by the U.S. cotton industry to manage and reduce plastic contamination, improve the strength and length of cotton, and deliver cotton in a timely manner.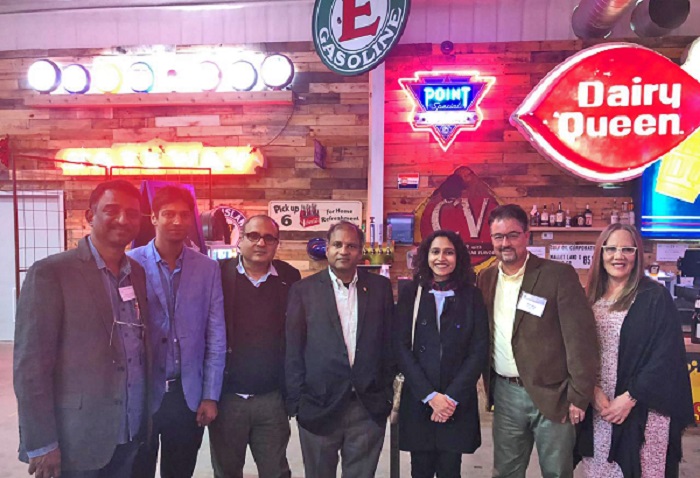 Dr. Seshadri Ramkumar (center) meets with international cotton industry delegates from Indonesia, India and the U.S. in Lubbock.
Sagrika Jain, manager in yarn business at India-based Vardhman Textiles, emphasized the importance of clean cotton in producing high quality yarns, while noting that the trade war has adversely affected the Indian yarn industry.
China still imports yarn from countries like Vietnam and Indonesia that have high quality yarns made from contamination-free cotton. These countries import quality cotton that enhances the quality and the value of their output.
Thavasi Vijayakumar, technical director at PT Indah Jaya, said his company uses cotton imported from the United States, which makes up 90% of the company's consumption. The company exports 70% of its yarn production to China.
"It is time that India starts using United States' cotton," he stated, adding that due to low moisture content and less trash, yarn realization could increase by 4-6%.
India's textile industry must strengthen its processing, garment and technical textiles sector – a consensus view among the tour participants with knowledge of Indian textiles.