From Cotton Grower Magazine – November 2017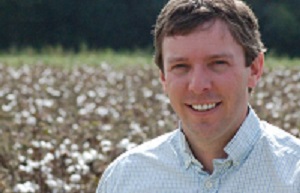 You might experience a bit of sensory or emotional overload on your first stroll through the buildings on the St. Jude campus in downtown Memphis, TN. The thing that ultimately got to me, inside the hospital, was the artwork hung on the wall – artwork drawn by the hospital's patients, who are children.
Each piece tells a little bit about the individual child who drew it. One such piece, featured below, was drawn by a child from a farm family. The caption reads "Plowing Thru Cancer." It was an effective reminder that this terrible disease affects every single community and walk of life – even our own.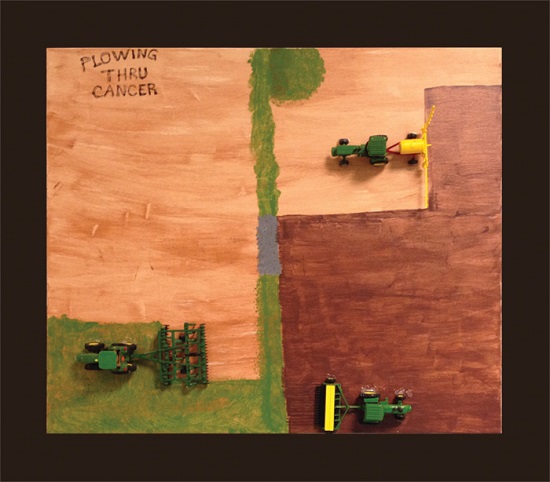 I have been at St. Jude a lot this fall because my godchild, Stella, was diagnosed with a type of thyroid cancer in September. She is eight years old.
Stella has lived her whole life in Midtown in Memphis, but she is familiar with her country roots. She visits her Bella and Pop back on the farm in Mississippi often. They have entered her pictures into Kotton Kidz approximately 400 times in the past 8 years.
Pop, who managed 3,000 acres of cotton and rotational crops for three decades, recently bought Stella her own horse – the aptly-named Redbird. She came home to dove hunt over Labor Day weekend, and was trying to work up the courage to shoot her double-barrel .410 (the same gun I learned to bird hunt with.) She was adamant that she was big enough to shoot this year. Pop and Stella swear she shot her shotgun, although from the dove field Uncle Beck didn't hear any unaccounted-for shots. The investigation into this matter is ongoing.
Maybe you have someone like Stella in your life. A child or grandchild who brightens your day and gives you hope for the future. I imagine you can sympathize with how difficult it is to watch a child you love struggle with cancer.
Luckily, there is something we can all do about this issue. At St. Jude Children's Research Hospital, part of the mission statement is to "advance cures" of pediatric cancer. To that end, they have been incredibly successful. Largely because of treatments developed at St. Jude, childhood cancer survival rates have risen from 20% to more than 80% since the research hospital opened more than 50 years ago. That statistic is remarkable. But there is more work to be done.
I'd like to invite you to Plow Thru Cancer with me, as the young patient-artist at St. Jude suggested. In December, I am going to drag my out-of-shape body through the St. Jude 10K race (I will have an eye out for the wonderful team at the Cotton Board, who also annually participate in this race). If you'd like to support sweet Stella and St. Jude through my run, simply go online to heroes.stjude.org/stellasstriders. Once you've made a donation, please make sure to note you are a member of the Cotton Grower community by writing "Cotton" next to your name.
Families with children at St. Jude don't pay a single penny for the treatment received there – allowing them to focus on the wellness of their child and family. You can take pride in knowing you've done your part in finding cures and comforting families – both within our farming community and beyond.