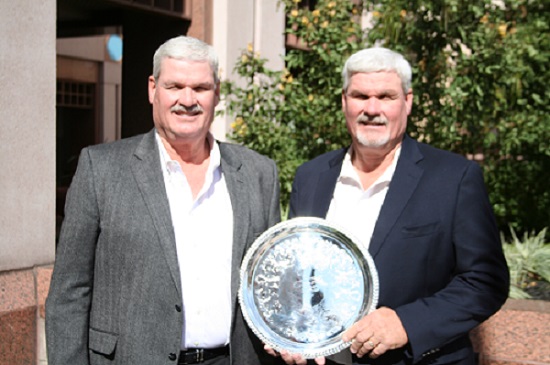 Doyle (left) and Daryl Schniers
Call it stubbornness. Call it pride. Call it whatever you want. But you have to call it successful.
Brothers Doyle and Daryl Schniers have been farming the family cotton and wheat operation in the Concho Valley, southeast of San Angelo, TX, since 1979. And in those 38-plus years, they've marketed 100% of their cotton themselves.
"We believe if you plant it, raise it and harvest it, then you sell it, too," says Doyle. "It might not always have been the right decision, but it's actually worked out pretty well for us."
So well, in fact, that the Schniers were recognized by ICE Futures as the 2017 Cotton Marketers of the Year during the Beltwide Cotton Conferences, held this year in San Antonio. For the past 27 years, the award has been given to U.S. cotton growers who demonstrate excellence in a marketing program.
The secret to their success is that there's no secret. Their marketing strategies vary from year to year, based on crop and market conditions. They rely on a variety of marketing tools ranging from bale and/or acre contracts, futures hedges, options and marketing pools when it's advantageous.
"We market some with puts and calls and sell the futures," explains Doyle. "It's not a magic number. It's not a certain date. We don't do it by the book."
"It's probably more of a gut feeling than anything," adds Daryl.
In all, it's a process based on listening and analyzing information. The brothers work with one broker for information, and three sons involved in the farming operation work with other brokers.
"We get a little bit of perspective from multiple sources," says Doyle. "They don't all say the same thing, so we have to part the weeds a bit and figure out what's best for us. Sometimes, it's not always the best, and we take our dings from time to time. We think we ought to be pretty darn smart by now, because we figure we learned more from what we did wrong than from what we did right."
They primarily work with local buyers, but also rely on contacts through the Walls Cooperative Gin to help screen potential buyers from outside the area. They demand honesty and fairness from the people they deal with.
"We don't work last chances," says Doyle. "If we don't take a price because the market or basis moves, there may be a second chance because we didn't sell the first time. But nobody gets a last chance. And we don't let people match."
That's a consistent philosophy throughout the entire farming operation, extending to seed, chemicals and other production inputs.
"Maybe it's not always right, but we believe that if you don't price it, you don't need it," says Daryl. "If there's not a price on it, then you really don't want to sell it to me."
The Schniers brothers represent the third generation of what's now a four-generation farming operation. The only boys among seven siblings, they always knew that they wanted to farm. The opportunity, sadly, came too soon when their father passed away when the then-19-year-olds were in their first semester of college.
"We had to come home and harvest cotton for our mom," recalls Doyle. "We wanted to go to college, and our dad wanted us to go to college. But in the end, if mom rented the land out – which was a possibility – we were concerned that we might not be able to get it back."
Today, the brothers farm approximately 7,000 acres of cotton – some of which is drip or pivot irrigated – and are active in the Deltapine New Product Evaluator program. There's also nearly 7,000 acres of wheat for a cotton/wheat rotation, about 1,100 acres of irrigated corn to help manage nematodes, plus a 200-head cow/calf operation.
"We need something to do in our spare time," quips Doyle.
Spare time may be in short supply. In addition to the farm, Doyle is a vice chairman of the National Cotton Council's American Cotton Producers and president of the Wall Co-op board. Daryl is chairman of the Tom Green County Soil and Water Conservation district and a director of the Concho Valley Electric Cooperative.
The brothers attribute their success to there being two of them. Doyle spends the biggest percentage of his time in the office managing paperwork, crop insurance and bookkeeping. He's also handy with tractors, the cotton picker and whatever else is needed at a particular time. Daryl (who, for the record, is 10 minutes older than Doyle) focuses on the on-farm production work with their sons.
"It's good that there's always somebody to confide in," says Doyle. "We spend a lot of time on the phone with each other about what we're doing and about what the market is or isn't doing."
During the season, the brothers and sons meet for lunch several times a week to talk over an ever-changing list of subjects. They'll often meet for coffee at the Walls Co-op to visit with other local growers to talk about what's working…or not working.
"We sometimes learn a lot in those sessions," says Daryl.
"People say we don't listen very much, that we do more talking," laughs Doyle. "There's probably a lot of truth in that."
From Cotton Grower Magazine – February 2018