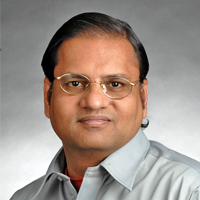 Texas Tech University researcher Seshadri Ramkumar has been chosen as recipient of the TAPPI NET Division Technical Achievement Award and the Mark Hollingsworth Prize for technical achievement in the field of nonwoven technology.
Ramkumar, a professor of technical textiles and countermeasures to chemical threats in Texas Tech's Department of Environmental Toxicology and The Institute of Environmental and Human Health (TIEHH), will be honored May 17 during the 2016 NET Innovative Nonwovens Conference in Cincinnati, OH. The TAPPI NET (Nonwovens Engineers and Technologists) Division is the world's leading professional group for nonwoven technology, and the Technical Achievement Award is the organization's highest honor.
"This award has been possible because Texas Tech realized the importance of research in the new field of nonwovens in 1999 and supported my effort through the Admiral Zumwalt Program, which helped with the creation of FiberTect decontamination wipe technology," Ramkumar said. "The research program showcases strong and continuing collaboration between Texas Tech, Reese Center and industry groups such as Plains Cotton Growers.
"I am thankful to Texas Tech for providing a supportive research environment that is absolutely needed for any research program to succeed."
"I have known Ram for nearly a decade and am proud to be involved in presenting this well-deserved award to him," said Larry N. Montague, TAPPI president and CEO. "He is extremely energetic, solid and passionate about the nonwovens industry, and his leadership skills have helped drive the TAPPI NET Division forward as a true motivator."
Ramkumar's research focuses on developing value-added materials using nonwovens and nanotechnology. He created FiberTect, a nonwoven decontamination wipe capable of cleaning chemical threat agents, and supervises the Nonwoven and Advanced Materials Laboratory within TIEHH. He is an associate editor for the AATCC Journal of Research published by the American Association of Textile Chemists and Colorists, and serves on the editorial boards of many international peer-reviewed journals.
He has successfully organized international conferences on advances in fibrous materials in India, promoting bilateral relations in the field of technical textiles between the United States and India. He also has received an honorary fellowship from Textile Association (India) – the world's largest textile professional society, which has more than 22,000 members.
Source – Texas Tech University