American cotton producers are poised to plant 13,661,889 acres of the crop in 2019, according to results from the annual Cotton Grower Acreage Survey. It would mark the second season in a row of robust acreage in the U.S. Cotton Belt, and, assuming that number holds true, would make the 2018 and 2019 seasons the highest two-year total of planted cotton acreage since 2005 and 2006, according to USDA statistics.
While the projection of 13,661,889 acres would represent a slight step back from the 14,042,000 planted in 2018 according to USDA, it would also be the third highest total of planted acres in the past decade.
Growers were generally rewarded for the large amount of cotton they planted in 2018, with moderate market price increases and significant yield gains playing a major role in the optimism cotton growers displayed for the crop in 2019. As growers head into the winter months, the price scenario compared to competitive crops continues to favor cotton.
"(Cotton) yields were moderate but acceptable, and prices were decent," said Guy Collins, Extension cotton specialist with North Carolina State University, of his state in 2018. "If prices remain somewhat favorable, and corn and bean prices remain similar or lower, cotton acreage should slightly increase in 2019."
Like many in the farming community, Collins is quick to add a caveat: "A lot can happen between now and planting time," he says.
Conducted in November and early December of 2018, the Cotton Grower Acreage Survey enjoyed the largest audience response in its history, with hundreds of growers and dozens of Extension and association experts weighing in from across the Cotton Belt. The results provide a nuanced snapshot of the current mood of U.S. cotton producers – which can be summarized as optimistic heading into the 2019 planting season.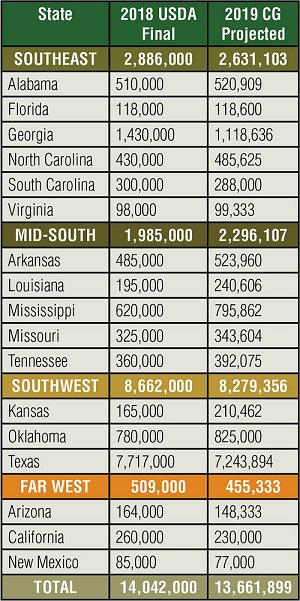 Mid-South on the Move
Nowhere is the enthusiasm for cotton more apparent than in the Mid-South, where producers have said they will plant more than 2,296,000 acres of cotton in 2019 – a figure that is well above the 1,985,000 they planted in 2018, according to the USDA December Production Report.
Mississippi appears poised to take the biggest leap in planted acreage, with growers indicating they could plant over 795,000 acres in the Magnolia State next season – up from the 620,000 they planted in 2018. Here, as in much of the Mid-South, growers indicated that cotton stands to gain from the uncertain price scenario in the soybean market.
Tennessee growers also indicated they could ramp up cotton production in 2019, with a projected 392,000 acres on deck.
"Low grain prices, decent cotton prices and very good cotton yields from the past few yields have bolstered excitement in cotton," says Tyson Raper, Extension cotton specialist with the University of Tennessee.
Growers in Arkansas, Louisiana and Missouri all also indicated that they will plant higher totals than they did in 2018, according to the survey.
Southwest Leads the Way, Again
Though it's hard to imagine, the whopping 8,279,000 acres of cotton the Southwest region is projected to plant in 2019 would actually represent a slight draw down in acreage there, compared to 2018. The factors that pushed Southwest farmers into cotton last season remain true heading into 2019.
In Texas, where producers indicated they will plant over 7,243,000 acres of cotton, a wet end to the year could give cotton a boost come planting season.
"The price of cotton relative to other commodities" is one reason for increased cotton acres, according to one Texas farmer. "And the above average precipitation that has been received this fall."
While growers remain enthusiastic about planting cotton in the Lone Star State, many there point out that they are already at maximum capacity for cotton, so a large scale increase in acreage is highly unlikely.
"As you know, the driver on state-wide acres is West Texas," says Gaylon Morgan, professor and Extension cotton specialist with Texas A&M University. "We have some area in South and East Texas that will be up over 5%. But many growers are reaching their maximum on their rotations. So, I do not expect any major upticks."
Such is not the case further north, however, where growers in Kansas and Oklahoma are discovering their fondness for cotton. Producers in Oklahoma could increase cotton acres to 825,000 in 2019, according to the survey. Extension agents there are not surprised by the robust acreage projections for the state.
"This increase will be driven by the success cotton producers had in 2018, and the fact that cotton seems to be providing one of the best values from the crop options our producers have," says Seth Byrd, state Extension cotton specialist with Oklahoma State University.
In Kansas, where existing infrastructure such as gins and harvest equipment can be a limiting factor, producers are expected to increase cotton plantings to more than 210,000 acres – up from 165,000 acres in 2018.
Southeast a Mixed Bag
In the Southeast, Georgia will once again lead the region with a projected 1,118,000 acres of cotton in 2019 – good enough for the second most acres in the entire Cotton Belt, behind only Texas. That projection represents a significant draw down in acres from 2018 in a region where enthusiasm for cotton was impacted by late season hurricanes.
In Florida, acreage is projected to remain stagnant at just greater than 118,000 acres in 2019. Once again, the issue of limited capacity is a factor.
"If farmers get some help from the hurricane, we should be close to 120,000 acres again this year," said David Wright, Extension specialist with the University of Florida. "Peanut acreage is likely to remain the same, so there will not be much expansion in acreage."
At a projected 485,000, North Carolina is expected to see a moderate increase in acres in 2019. Many growers in the state indicated that they had a great experience with cotton in 2018 – with the exception of those farms in the southeastern part of the state impacted by Hurricane Florence.
In South Carolina, farmers seemed less enthused. Growers there projected they'd plant 288,000 acres of cotton in 2019, a slight reduction from the 300,000 they planted in 2018.
Far West to Reduce Plantings
California growers appear poised to reduce acreage from 260,000 they planted in 2018 to a projected 220,000 in 2019.
In Arizona and New Mexico, plantings are projected to be moderately lower as well. Arizona acreage is expected to fall to 148,000 acres – down from the 164,000 producers planted there in 2018. Similarly, New Mexico producers are expected to plant 77,000 acres, down from the 85,000 they planted in 2018.
Competitive Pricing a Major Factor
The most common refrain from producers in this year's survey was that cotton simply pencils out better than competitive crops at this moment. While current global trade disputes create uncertainty for several crops – including cotton – it appears growers have more faith in cotton than in soybeans as a result of that ongoing situation.
In fact, in many regions, the appetite for cotton is greater than the actual capacity to produce it. Particularly in the northern reaches of the Southwest, growers indicated they would grow more cotton if given the infrastructure – gins and harvest equipment – required to produce it.
As they do every year, producers across the Belt who responded to the Cotton Grower Acreage Survey demonstrated a highly informed, nuanced understanding of the forces that shape their respective business outlooks.