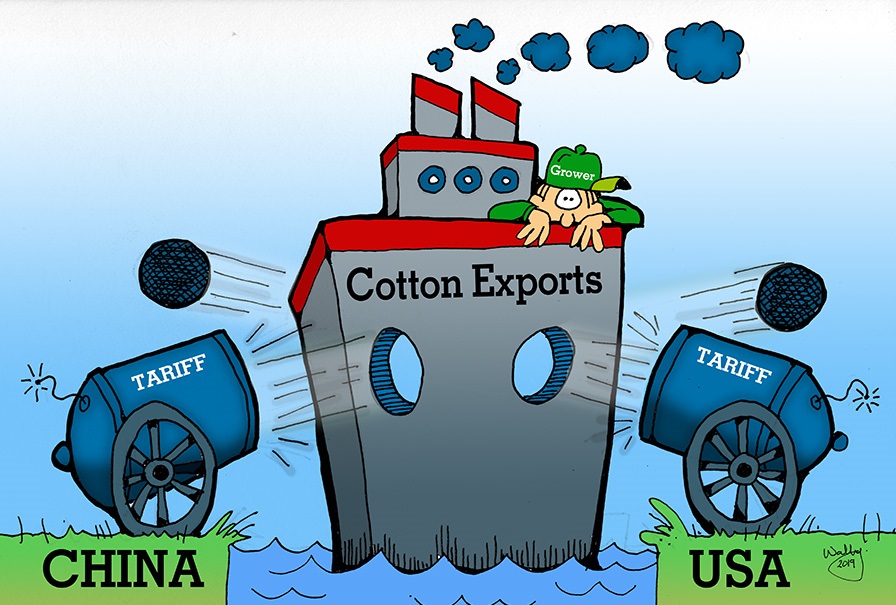 I was interviewed recently by a program on Fusion TV called UNEWS – an English-language news show from Univision. It was the second week of May, and the Trump administration's deadline for a trade deal with China had just come and gone, triggering a new round of tariff increases. Cotton was front and center, this time.
Naturally, hard-working newsroom producers were looking for industry representatives to comment on the development.  And so, with sweaty palms, I made my national television debut.
"So, what are the effects of this latest round of tariffs, because I understand cotton growers were already impacted by the tariffs imposed last September?" asked the program's host, Andrea Linares. I did my best to work through the commodity price implications of this – to be sure – incredibly complex issue.
As you all are no doubt aware, ag journalists are not market analysts. We're not policy wonks. So, I did my best to regurgitate the things I've learned from very smart people like economist Dr. O.A. Cleveland, NCC President Gary Adams and Joe Nicosia of Louis Dreyfus Commodities – folks I listen to throughout the year.
Then came a question that I was, in theory, best positioned to answer: How are cotton farmers – generally regarded as firm Trump supporters – feeling about the Trump administration in light of this trade war that is, indisputably, suppressing cotton prices?
Friends, let me tell you, I stumbled on that one.
We steer clear of politics, as a general rule, here at Cotton Grower. But beyond that very basic principle, I also know that this issue is a divisive one even within the farming community. I had seen it debated on social media in posts by farmers on both sides of this issue. Some have had enough of this trade war and its negative effects on prices. Others believe the ends will justify the means.
I knew then what I know now – that identifying either viewpoint as the correct one would rankle a significant portion of our audience. So, I fidgeted a little in my seat and eventually stammered that farmers were feeling "frustration" and that some were "questioning the wisdom" of this trade war. But, I noted, there exists a large portion of farmers "who support this."
I got a text from a farmer friend later that afternoon who had watched the interview clip. He answered that question more eloquently than I did. "I know this (trade war) will probably be a net positive for America, but it's the last thing I need right now!"
That pretty much sums up the feelings of most of our readers, as best I can tell. Mixed feelings. But the longer this situation drags on, the more that frustration grows. Here's hoping that a deal is struck soon.
To hear Beck's interview with UNEWS, listen to Episode 48 of The Cotton Companion podcast.