What's a dad to do when his daughter proclaims that she wants to farm full time with him when she finishes school? Doug Jarrell has an answer…he thinks.
Jarrell's daughter Brittany has been working on the multi-generational family farm near Estill, SC, since she was old enough to help. Today, she's in charge of planting the farm's cotton in the spring and picking the crop on her days off from school during harvest (younger brothers Lockwood and Emerson have their jobs, too). Like most farm kids, it's in her blood. And it's what she wants to do for a living.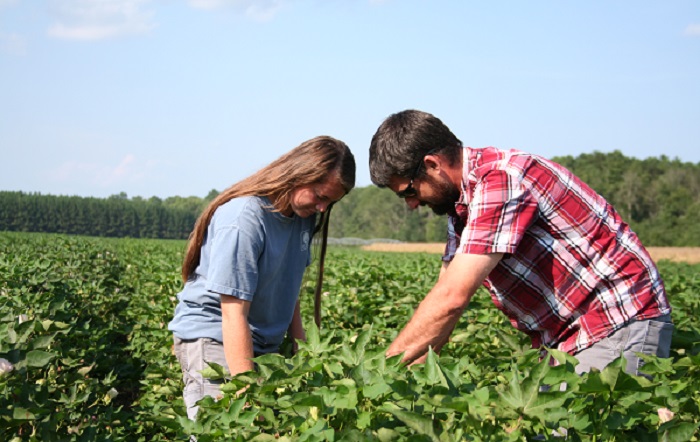 Brittany and Doug Jarrell check boll load in one of their South Carolina cotton fields.
Now, with a year and a half left to earn her agribusiness degree from Ogeechee Tech in Statesboro, GA, plans are slowly taking shape.
"When Brittany changed her major last fall and said she wanted to farm, those were the best words to hear, but also the scariest," said Jarrell. "I was excited and scared to death at the same time. But we'll figure this out. I'm a believer that if it's meant to be, it'll work out.
"But my first rule is, you have to have a degree."
Jarrell needs look no further than his farming partner – his dad – for guidance on starting a farming career.
"When I told him I was going to farm, he said if that's what you want to do, that's fine," he recalled. "I'll help you. But I will not do it for you. And that was one of the best things he's ever done for me."
Jarrell's dad cosigned an operating loan for his first year of farming in 2003. But that was it. Jarrell was on his own at that point, and he learned to make it work.
"He taught me everything I know," said Jarrell. "He said don't worry about the weather. That's the good Lord's work. You just worry about what Doug's supposed to be doing."
Jarrell and his dad still buy equipment and land together, and his dad remains involved in the details of their cotton, peanut and corn operation. Health issues over the past year have kept his dad from his usual levels of farm activity. But make no mistake – he still has his eye on what's going on.
"Brittany drove him around on the Gator, and the first thing he saw were a few pigweed escapes. I've never been so happy to have my butt chewed out," laughed Jarrell.
A Year of Challenges
The Outer Coastal Plains of South Carolina is one of the most fertile and productive agricultural regions of the state. But it's certainly not without its challenges. The Jarrells farm about 1,600 acres – usually 1,000 to cotton, about 450 acres to peanuts and 120 to corn.
"We like to start planting peanuts at the end of April and finish just before Mother's Day," explained Jarrell, "then start cotton and be finished by the end of the month. But this year, the dry weather and heat hit us. We planted cotton for a week and quit after 600 acres. It was too dry to even dust the cotton in. We had to take prevented planting on the rest because of the drought."
The cotton that was planted were all Enlist varieties.
"We like the technology," said Jarrell. "It's easy to apply with no volatilization to speak of, easy to clean out of the tank, and we don't have to worry about peanuts beside the cotton or our rotation back into peanuts. We only have one sprayer, and it has to do it all."
The Jarrells strip till their fields, and a good portion of their cotton acres were planted behind a rye cover crop that was burned down 2-3 weeks before planting. Residuals were applied behind the planter on both cotton and peanuts.
Tankmixes of Liberty with either Enlist One or PowerMax, depending on the situation, were a big part of Jarrell's pigweed management. Another shot of Liberty with Direx went out with his "old school" layby rig.
But the perennial challenge that Jarrell faces each year are nematodes, primarily root knot.
"This sandy soil around here is full of them," he stated. "If you tell me you don't have nematodes and you're farming this area around here, you're fooling yourself."
Jarrell tries to keep his fields on a four-year rotation with cotton and peanuts – three years of cotton and one year of peanuts – to help manage nematode populations. They also relied on Telone II for their biggest problem areas. But some recent test plot work opened their eyes to another option.
"PhytoGen came to me last year about their dual gene root knot varieties," said Jarrell. "I told them there's no way that's going to work here. So Brittany and I planted a plot with PHY 444 WRF with Telone – pretty much the standard on our farm – and PHY 480 W3FE with no Telone, just to see. Jason Woodward (PhytoGen cotton development specialist) convinced us to pick the plot, weigh it and send it out for turnout."
The results – the PHY 480 yielded 100 pounds more than the PHY 444 treated with Telone.
"I came back and told them I was wrong," admitted Jarrell. "It did work and would work. Not having to put Telone out is a big plus for us in both cost savings and safety. And anytime you can increase yield, that's a plus, too."
Moving Ahead
Jarrell has served as an alternate for Cotton Incorporated since 2016 – an experience that he says has benefitted him in many ways.
"Cotton is what I eat, sleep and breathe," he said. "In those meetings, you're around people who are all passionate about cotton. If I had to choose only one crop to grow, I'd grow cotton. That's where my heart is."
And too, with a certain young lady ready to make her mark on the family farm.
From Cotton Grower Magazine – August/September 2019